LISC Financial Stability Programs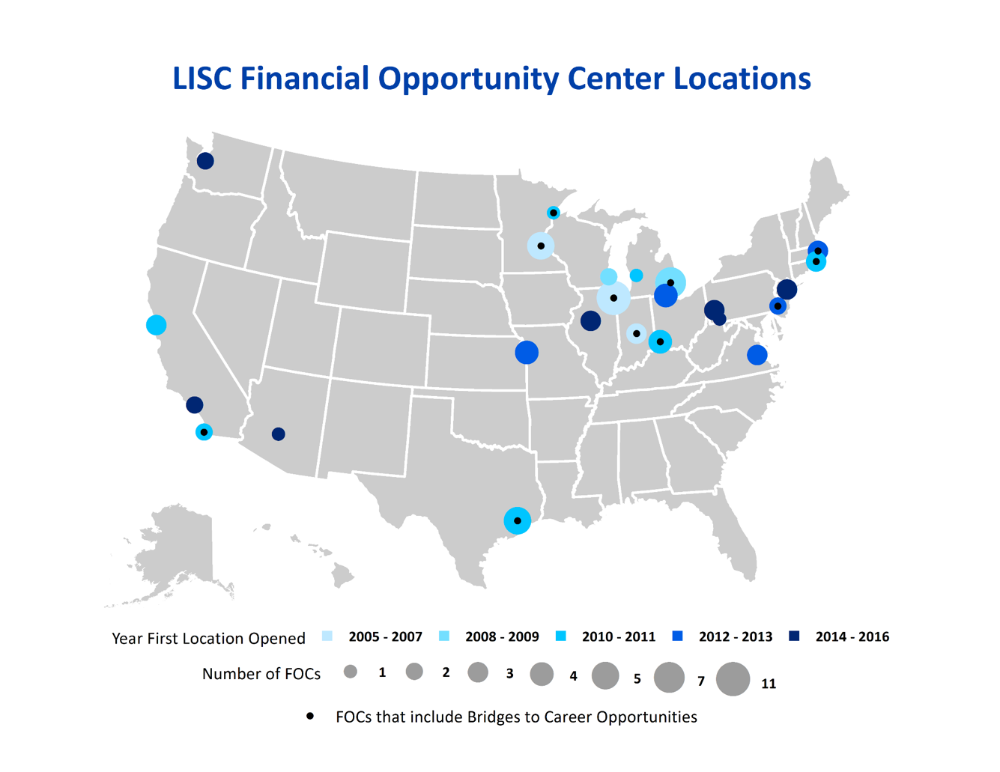 Financial Opportunity Centers
LISC supports a national network of 80 Financial Opportunity Centers in more than 30 cities across the country. Financial Opportunity Centers (FOCs) focus on the financial bottom line for low-to- moderate income individuals. This means changing people's financial behavior in a way that encourages them to make a long-term commitment to increasing income, decreasing expenses and acquiring assets.
The FOC model involves integrated services delivery of three "core" services:
The Financial Opportunity Center model is not a distinct program or organizational entity, but rather, a new way for agencies to conceptualize and approach their work. As such, the model is deployed within the existing infrastructure of established, community-based institutions that have a track record of providing at least one of the three core services (and, in the case of most FOCs, a multitude of other social, financial or educational services).
In LISC's experience, neighborhood-based organizations have the advantages of convenience, familiarity, accessibility and cultural competency. They offer the trust and credibility that are crucial to establishing productive, long-term relationships with community residents. Across the country, a wide spectrum of neighborhood-based nonprofits—workforce agencies, faith-based organizations, Community Action Agencies, multi-service providers, housing counseling groups, prisoner re-entry programs and community colleges—have incorporated the Financial Opportunity Center model into their programming.

Financial Opportunity Centers are based on the Center for Working Families model originally developed and promoted by the Annie E. Casey Foundation. LISC's Chicago field office was an early adopter of this approach, having supported several community-based organizations in 2005. (In several LISC cities that were early adopters of the model, the Centers are still known locally as CWFs, though they are part of the FOC network and Financial Opportunity Centers is the national LISC "brand.")
Bridges to Career Opportunities
The Bridges to Career Opportunities initiative is a model that is integrated into many Financial Opportunity Centers. Neighborhood residents can take advantage of:
Math, reading and/or English remediation that is industry-specific and relevant to the career track a client is pursuing. This puts adult learners on a "fast track" to upgrade or refresh their skills as preparation for technical training.




Vocational training at an FOC agency, community partner or local community college




Job-hunting skills that include resume-writing, interviewing and dressing professionally




"Soft skills" for the workplace like communication, conflict resolution and time management




Understanding of the field, such as pay and hours, work expectations




Ongoing support from FOC employment and financial coaches to set and achieve personal goals



BCO is a supported bridge training program that helps overcome the gaps in academic readiness that can prevent low-wage, low-skill adults from being hired and succeeding in careers that offer livable wages. Many workers are unable to participate in occupational skill training, which teaches workers specific capacities so they are prepared for employment in an industry or field, because they lack the necessary literacy and math skills and have financial challenges that undermine their ability to commit to longer-term training and career development. BCO is designed to address both these issues.
BCO provides effective adult basic education contextualized for strong local industries like healthcare and advanced manufacturing. Participants learn foundational skills such as math, literacy or English as a Second Language in the context of their intended occupation. As important, Bridges to Career Opportunities helps participants manage the financial and logistical challenges that can interfere with job training.
BCO is a grantee of the federal Social Innovation Fund (SIF), which unites public and private resources to evaluate and grow innovative community-based solutions with evidence of results. The SIF and its private-sector partners have invested more than half a billion dollars in compelling community solutions awarding grants.
Building Sustainable Communities
LISC researchers analyzed outcomes from 40,000 people who visited Financial Opportunity Centers across the country. The data in this 2015 report show that those who took advantage of bundled services that focused on employment, income supports and financial management skills made significant, lasting progress—with incomes expanding by an encouraging 76 percent Link
First Steps on the Road to Financial Well-Being
An independent study by the Economic Mobility Corporation found that Financial Opportunity Center clients, who access a range of services, have more success meeting their financial goals than people in programs offering employment assistance alone. Their gains include landing and keeping a job, growing credit and increasing annual earnings. Link
Bridge and Vocational Services within Financial Opportunity Centers: Evidence from Program Data
A LISC analysis of 14 Financial Opportunity Centers that provide contextualized bridge programs finds that participants who completed these programs were placed in employment more quickly than a control group, had higher initial wages, and were more likely to retain a job for six months. PDF