Financial Opportunity Centers
A Financial Opportunity Center, in its inherent design, requires an agency or organization to provide interconnected programming to clients, which often requires a complex process and organizational structure. These materials and resources can help create and maintain operations in a way that will help clients succeed in the program and are efficient and effective for the provider. New to the FOC network? Click here for key steps to getting started
Savvy Marketing & Outreach
This PowerPoint deck from a workshop by LISC and United Way covers is designed to enhance partner knowledge of marketing and outreach techniques and to develop strategies and actionable plans related to FOCs. The presentation is in seven chapters, covering brochures, posters, a communications plan and more. Google doc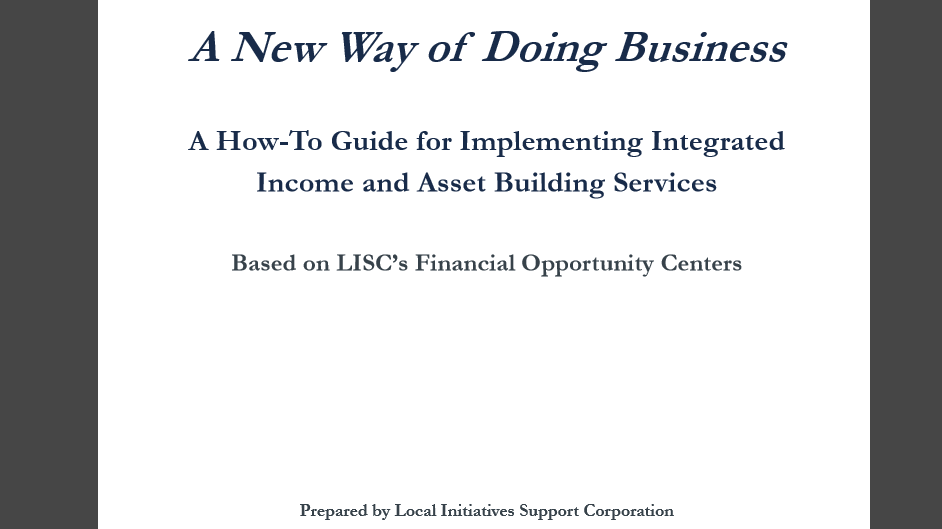 This guide pulls from nearly a decade of experience working with FOCs across the country in order to present a framework for organizations considering adopting the intergrated services delivery (ISD) model. PDF



This set of slides from a presentation by Amy Brown, Aspen Institute covers seven ways to build impact of a program, from the power of defaults to appealing to identity.
PDF
First Steps on the Road to Financial Well-Being
An independent study by the Economic Mobility Corporation found that Financial Opportunity Center clients, who access a range of services, have more success meeting their financial goals than people in programs offering employment assistance alone. Their gains include landing and keeping a job, growing credit and increasing annual earnings. Link
FOC Staff Job Descriptions
Templates for agencies to use to create and advertise jobs at an FOC, including an overview, position description and preferred qualifications.